In spite of the fact that a growing number of guitar effects can synchronize to MIDI Clock,
none
of the major guitar PedalBoard MIDI controllers send MIDI Clock data!
The list of clockless controllers includes Diezel Columbus Midi Pedalboard, Behringer FCB-1010, VooDoo Lab Ground Control Pro, Mastermind GT, Fractal MFC-101, Nobels MF-2, Tech 21 MIDI Mouse, Tech 21 MIDI Moose, Keith McMillen Instruments SoftStep, Rocktron Midi Xchange, and Rocktron MidiMate.
To fill this obvious void, Molten Voltage created TEMPODE
™
, an inline pedalboard MIDI Clock injector that goes in between the controller and the rest of your pedalboard.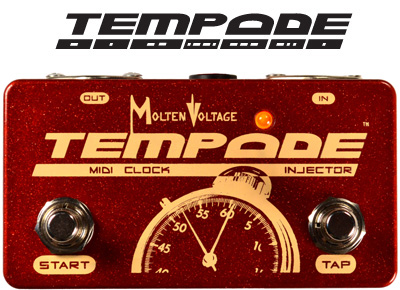 TEMPODE is simple to use, just tap on the button to set the tempo, press Start to send the clock.
What's more, TEMPODE stores the tempo associated with each of 128 programs, so when you recall a program with your controller, TEMPODE immediately sends MIDI Clock at the stored speed.
To save a program, simply hold down the tap button for 2 seconds until the LED turns solid yellow. That's it!
Find out more:
TEMPODE Owner's Manual
Buy TEMPODE
MoltenVoltage.com