It's only taken 30 years, but MIDI PedalBoards for guitarists are finally coming into their own.
In the last few years, a growing number of cutting-edge effect companies have made their devices capable of synchronization to MIDI Clock. The list of devices is multiplying quickly, and includes:
Eventide - Timefactor
Eventide - Modfactor
Eventide - Pitchfactor
Eventide - Space Reverb
MOOG - MF-104M - Analog Delay
MOOG - MF-105M - moogerfooger MIDI MuRF
MOOG - MF-108M - Cluster Flux
Fractal Audio Systems - Axe-FxII Preamp/FX Processor
Strymon - Mobius
Strymon - TimeLine
Pigtronix - Infinity Looper
Roger Linn - AdrenaLinn
EHX - 2880 - Super Multi-Track Looper
EHX - 8-Step Program - Analog Expression/CV Sequencer
EHX - 45000 - Multi-Track Looping Recorder
TC Electronic - Flashback X4 Delay & Looper
BOSS - Slicer (SL-20) - Audio Pattern Processor
BOSS - RC-300 Loop Station
Empress - Phaser
Roland - VG-99
However, for some inexplicable reason,
none
of the major PedalBoard MIDI controllers send MIDI Clock!
Forget 99% of what MIDI can do, all that really matters on a pedalboard is turning effects on and off, calling up presets, and synchronizing pedals, like delays, phasers, and loopers, that can lock onto an external clock.
Molten Voltage saw the writing on the wall and created a line of modular MIDI PedalBoard devices
that are simple to use
, including the Molten Voltage MASTER CONTROL.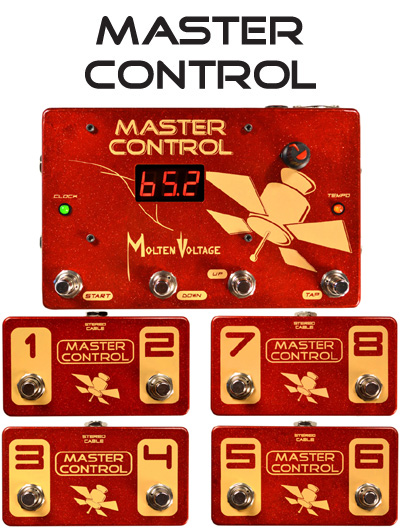 MASTER CONTROL is the first of its kind - a dedicated PedalBoard MIDI Controller that sends MIDI Clock. It also stores the tempo associated with each of the 128 programs. Version MV-58B (
shown in the photo
) features four Side Controllers that can be placed strategically around your PedalBoard for easy access without sticking out your toe to change programs like a ballerina!
Brooklyn-based Producer Allen Farmelo reviewed it in Tape Op Magazine and proclaimed
"MASTER CONTROL is a simple and intuitive interface that all of us started using effortlessly in about ten seconds of trial."
MIDI PedalBoards can be simple and creative tools that help artists streamline their sound. A good product can be used without opening a manual. If you are interested in modernizing your pedalboard, check out what Molten Voltage has to offer.
More about MASTER CONTROL
Buy MASTER CONTROL
MoltenVoltage.com